Are you Looking to Buy Cialis (Tadalafil) from Maple Leaf Medications.
( Top Brand Option )
See Alternative Pricing below for savings
Cialis

Prescription Required
( Affordable Generic Options )
Tadalafil

Prescription Required
Description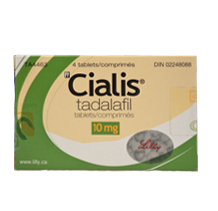 The Cialis medication listed above is manufactured by Eli Lilly.
Cialis is also known as Tadalafil. You can
purchase these and other quality medications from MapleLeafMeds.com. Our online pharmacy allows you to purchase medication
24 hours a day and 7 days a week to serve your health needs. Our products are
guaranteed delivered through timely, reliable, and safe shipping. It takes
approximately 2 to 4 weeks from the day you order it to arrive at your house.
MapleLeafMeds.com proudly displays its CIPA (Canadian International Pharmacy
Association) seal, as well as the Pharmacy Checker seal to signal that we
conform to nothing but the highest standards for quality. Our CIPA affiliate
pharmacies are recognized globally as the first choice in prescription and
non-prescription medicine. MapleLeafMeds.com guarantees the best price for Cialis and
will beat any other price found on a CIPA website for the same drug by
5 dollars. All orders are encrypted through our SSL (Secure Socket Layer)
protection, and backed by the BuySAFE security seal which offers a third-party
guarantee of your purchase, and $10,000 in identity theft protection.
A prescription must be provided for Cialis as with all prescription
medicine here at MapleLeafMeds.com; there are no exceptions. The customer must
fax a copy of their prescription and following that the customer must mail
the actual original prescription to MapleLeafMeds.com.
If you have any questions regarding medication or basic inquires about MapleLeafMeds.com be
sure to contact us in writing. Or, if you need to speak to a live representative
you can call our toll free number at 1-800-998-4016, Monday to Friday, 6am to 6pm, and Saturdays from 7am to 4pm.
This medicine is used to treat erectile dysfunction (ED) in men.
Store at room temperature in a cool dry place, protect from heat and light. Keep all medicines out of the reach of children and pets.
Before using this medicine, tell your health care provider about any of the following: if you are pregnant, planning to become pregnant, or breastfeeding; if you are taking any prescription or nonprescription medicine if you are taking blood thinners; if you have stomach problems; if you have peptic ulcers; if you have any other medical condition like liver or kidney function impairment or heart problem.
Contact your physician immediately if the erection lasts longer than 4 hours or if it becomes painful. This may be a sign of priapism and must be treated immediately to prevent permanent damage. If you experience symptoms of nausea, dizziness, chest pain or arm pain upon initiation of sexual activity after use of this medicine, you should refrain from further activity and should discuss the episode with your prescriber or health care professional as soon as possible. Do not drink alcohol to excess (examples, 5 glasses of wine or 5 shots of whiskey) when taking this medicine. When taken in excess, alcohol can increase your chances of getting a headache or getting dizzy, increasing your heart rate or lowering your blood pressure. If you notice any changes in your vision while taking this medicine, notify your prescriber or health care professional as soon as possible.
How much medicine you take and how often you take it depend on many factors, including the condition being treated and the age and weight of the patient. If you have any questions about the amount and/or frequency of the medicine you are taking, talk with your health care provider. Do not stop taking this medicine without checking with your health care provider. Patients with previous medical conditions should talk with their health care provider before taking this medicine. Do not take more medicine than prescribed unless advised to do so by your health care provider. Do not take any other over-the-counter or prescription medications without talking with your health care provider. If a dose is missed, take it as soon as possible. If several hours have passed or if it is nearing time for the next dose, do not double the dose to catch up, unless advised by your health care provider. If more than one dose is missed, contact your health care provider or pharmacist.
Do not take this medicine if you are allergic to any component present in this medicine.
Most severe: Changes in vision, chest pain or palpitations, difficulty breathing, shortness of breath, dizziness, eyelid swelling, prolonged erection (lasting longer than 4 hours), skin rash, itching
Most common: Back pain, flushing, headache, indigestion, muscle aches, stuffy or runny nose
Other: None.
Additional information
| | |
| --- | --- |
| Drug Name: | Cialis |
| Scientific Name: | Tadalafil |
| Other Names: | Cialis, Tadacip, Megalis, Tadalafil |
| Strength(s): | 20mg, 5mg, 2.5mg, 10mg |
| Quantities Available: | 24, 12, 16, 20, 36, 40, 8, 42, 14, 56, 84, 60, 28, 90, 30 |
| Formulation: | Tablet |