Spiriva Respimat (Tiotropium) from Maple Leaf Medications.
( Top Brand Option )
Spiriva Respimat

Prescription Required
Formulation :
Respimat Inhaler
| Drug Name | Dosage | Quantity | Price | Buy Now |
| --- | --- | --- | --- | --- |
| Spiriva Respimat | 2.5mcg | 60puffs | $79.50 | Add To Cart |
| Spiriva Respimat | 2.5mcg | 180puffs | $218.00 | Add To Cart |
Spiriva Respimat
Dosage: 2.5mcg
Quantity: 60puffs
Price: $79.50
Spiriva Respimat
Dosage: 2.5mcg
Quantity: 180puffs
Price: $218.00
Description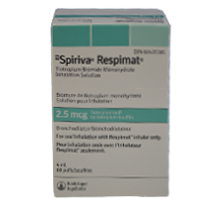 What is Spiriva Respimat?
Spiriva Respimat (tiotropium bromide) is an inhalation spray used as a maintenance treatment for asthma and bronchospasm linked to chronic obstructive pulmonary disease (COPD). It is also used to reduce COPD exacerbations and prevent symptoms like wheezing and shortness of breath. 
This anticholinergic oral inhalation works by inhibiting M1 receptors of the smooth muscle, resulting in bronchodilation. It relaxes the muscle in the airway, allowing an individual to breathe easily. This is available in Spiriva Respimat 2.5 mcg and 1.25 mcg. 
Spiriva Respimat – How to use
To begin, make sure to read the medication information leaflet that comes with this drug. Do not use this oral inhalation if you have not fully understood all the information and instructions in the guide. If you need further medical advice or have questions about using Spiriva Respimat, ask your doctor or pharmacist. 
Use Spiriva Respimat regularly and with a dosing schedule to achieve full benefits. Do not alter your dosing or frequency to avoid worsening conditions. Your dosing will depend on your medical condition, response to treatment, and other medications you are using. 
If you are prescribed other inhalers, wait for at least one minute before administering other oral inhalations. This will allow proper drug absorption. 
Step by step guide in using Spiriva Respimat inhaler: 
To prepare, pull off the clear base as you press the safety catch. Be careful with the piercing element at the center.

 

Write the discard date on the label. It should be three months after the cartridge has been inserted.

 

On a flat surface, insert the narrow end of the cartridge into the inhaler and push it down until you hear a click.

 

Put the clear base back to the inhaler. Do not remove the clear base once the cartridge has been inserted.

 

With the cap closed, turn the clear base into the direction of the arrow until it clicks.

 

Open the cap, point the inhaler away from you, press the dose-release button, and close the cap again. Repeat this until you see a mist. If you see the mist, repeat it three times.

 

Now that your inhaler is ready to use, close the cap and turn the clear base to the direction of the arrow again. Then, open the cap.

 

Exhale fully and slowly.

 

Put the mouthpiece into the mouth and seal your lips around it. Make sure the air vents are not covered. Breathe in slowly and fully through the mouth as you push the dose-release button.

 

Hold your breath for not less than 10 seconds and close the cap. Repeat steps 8 and 9 for another puff.

 
Side effects 
Common side effects of Spiriva Respimat:
Dizziness

 

Dry mouth

 

Throat irritation

 

Indigestion

 

Diarrhea

 

Constipation

 

Runny or stuffy nose

 
In most cases, the adverse reactions caused by Spiriva Respimat are mild and would disappear within a few days. If these side effects persist or if you develop serious adverse effects, call your doctor or any healthcare professional immediately. Some severe side effects of this drug are: 
Palpitations

 

Chest pain

 

Fever

 

Hypertension

 

Difficult or painful urination

 

Urinary retention

 

Eye pain

 

Vision changes

 
This is not a full or complete list of Spiriva Respimat side effects. 
Precautions
Before using this inhalation spray, disclose your medical history to your physician, especially any history of glaucoma, enlarged prostate, or kidney disease, among others. Some conditions or disorders may impact how you will respond to the treatment. Moreover, tell your physician about all the nonprescription/prescription drugs and supplements you are taking because they may interact with tiotropium bromide. 
Look out for an allergic reaction when using Spiriva Respimat. Do not take this drug if you have a known allergy to tiotropium, ipratropium, atropine, and the inactive ingredients that this inhalation spray contains. Discontinue the use of this medicine and seek emergency help once you develop an allergy. Signs of hypersensitivity reaction are difficulty breathing, severe dizziness, skin rash, hives, and swelling of the face and neck. 
Limit or, if possible, avoid alcoholic beverages or any substances that could worsen side effects like dizziness, drowsiness, and blurred vision. Practice caution when driving, using machinery, and doing any activities that require clear vision and alertness. 
For pregnant and breastfeeding women, this oral inhalation should only be used when clearly needed and with special precautions. Note that potential benefits must be more significant than the potential risks. 
Frequently Asked Questions
Can children use this medication?
This drug is safe for children 6 years and older. 
Does this medication contain steroids?
This inhaler has no steroid content. 
Can I use this medication as my quick-relief inhaler?
This inhaler could not replace your rescue inhaler. 
How often should I clean my inhalation device?
At least once a week, wipe the inhaler with a damp cloth or tissue. 
How much does Spiriva Respimat cost?
You may check the pricing of this product by clicking here.
Additional information
| | |
| --- | --- |
| Drug Name: | Spiriva Respimat |
| Scientific Name: | Tiotropium |
| Other Names: | Spiriva Respimat |
| Strength(s): | 2.5mcg |
| Quantities Available: | 60puffs, 180puffs |
| Formulation: | Respimat Inhaler |
Maple Leaf Medications has provided information from third parties intended to increase awareness and does not contain all the information about Spiriva Respimat (Tiotropium). Talk to your doctor or a qualified medical practitioner for medical attention, advice, or if you have any concerns about Spiriva Respimat (Tiotropium).
Similar Products
---
Popular Prescription Medications