Spiriva Respimat (Tiotropium Bromide) from Maple Leaf Medications.
( Top Brand Option )
Spiriva Respimat

Prescription Required
Formulation :
Respimat Inhaler
| Drug Name | Dosage | Quantity | Price | Buy Now |
| --- | --- | --- | --- | --- |
| Spiriva Respimat | 2.5mcg | 60puffs | $84.00 | Add To Cart |
| Spiriva Respimat | 2.5mcg | 120puffs | $155.00 | Add To Cart |
Spiriva Respimat
Dosage: 2.5mcg
Quantity: 60puffs
Price: $84.00
Spiriva Respimat
Dosage: 2.5mcg
Quantity: 120puffs
Price: $155.00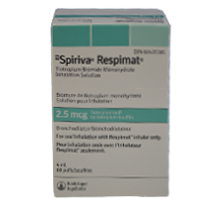 What is Spiriva Respimat (Tiotropium Bromide)?
Spiriva Respimat (generic name tiotropium bromide) is used as maintenance drug therapy for bronchospasm associated with chronic obstructive pulmonary disease (COPD). It is also prescribed for the maintenance treatment of asthma.
This oral inhaler is safe for adults and children 12 years of age and above. It should not be used for acute bronchospasm or asthma attacks.
Spiriva Respimat inhaler is classified as an anticholinergic that results in bronchodilation by relaxing the muscles of the airways, thereby making it easier to breathe.
How to Use Spiriva Respimat (Tiotropium Bromide)
The drug is normally administered by inhaling two puffs once daily. Do not take more than two inhalations in a 24-hour period. This product typically lasts for 30 days. Avoid altering your Spiriva Respimat dosage and keep using this inhaler for as long as recommended by your doctor.
Spiriva Respimat – How to Use:
Pull the clear base of the inhaler as you press the safety catch. Be careful with the piercing material in the middle.
Write the discard date of this inhaler on the label. The discard date of this product is three months after the cartridge insertion.
Insert the narrow part of the cartridge into the inhaler and press it down on a flat surface. You will hear a click.
Put the clear base back on the inhaler. Do not remove the base once the cartridge has already been inserted.
Turn the clear base to the direction of the arrow. Once again, you will hear a click.
Open the cap. Away from you, push the dose-release button of the device. Then, close the cap and keep doing this step until the mist is visible. Once the mist is visible, repeat it three times.
Close the cap and turn the clear base towards the arrow again. Then, open the cap.
Exhale deeply and fully.
Insert the mouthpiece into your mouth with the lips closed tightly around it, yet don't cover the air vents on the sides. Inhale deeply but slowly through your mouth as you push the dose-release button.
Hold your breath for 10 seconds. Then, close the cap. Repeat steps 5 to 10 for another puff.
Rinse your mouth right after.
Side Effects of Spiriva Respimat (Tiotropium Bromide)
Most Common Side Effects – Spiriva Respimat:
Dizziness
Dry mouth
Throat irritation
Sinusitis
Diarrhea or constipation
Indigestion
Vomiting
Most of the side effects caused by this inhaler are typically mild. Your healthcare provider may recommend ways to manage these adverse effects. However, if any of the adverse effects persist or worsen, you must consult your doctor again.
This type of oral inhalation does not affect sleep. However, as it is an anticholinergic, it may cause cognitive dysfunction, such as memory loss.
Serious Side Effects
Having severe adverse effects is rare. Here are some of the reported severe adverse reactions:
Difficulty urinating or painful urination
Worsening breathing problems
Eye pain
Vision changes
Increased heart rate
High blood pressure
You must consult your physician once you encounter any of these reactions.
Allergic Reactions
This prescription inhaler must not be given to adult or pediatric patients with known allergies to tiotropium, ipratropium, atropine, or any of the inactive contents of this product, such as milk protein. You must call for emergency management once you experience symptoms of allergy, such as:
Itching
Rashes and/or hives
Swelling of the mouth, face, and throat
Severe dizziness
Trouble breathing and wheezing
Spiriva Respimat Precautions
Using Spiriva Respimat may be contraindicated for patients with:
Known hypersensitivity to this drug or any similar drugs
Closed-angle glaucoma
Conditions that can cause difficult urination, like enlarged prostate
Kidney disease
Those who are using this inhaler must be careful when taking over-the-counter medication, prescription drugs, or herbal medicines. Spiriva Respimat inhaler may interact with other anticholinergic medications.
It is best to avoid any beverages that contain alcohol while on this inhaler. Alcohol can trigger or aggravate certain undesirable effects of this medication, such as dizziness and blurred vision.
The available data on the use of this inhaler during pregnancy and lactation is insufficient. Therefore, it is best to use this prescription only if strongly advised by the doctor.
Buy Spiriva Respimat (Tiotropium Bromide) Online
You may purchase this bronchodilator from drugstores or online pharmacies. Online Canadian pharmacies are known to be convenient and safe.
Online pharmacies in Canada, like MapleLeafMeds, provide cheaper prescription and non-prescription medications. You may check the Spiriva Respimat price from the information above. If you have concerns regarding the order process or the Spiriva Respimat cost, you may contact us.
Spiriva Respimat Form and Strength
This oral prescription inhaler is available in the following forms/strengths:
Spiriva Respimat, inhalation spray

1.25 mcg per actuation
2.5 mcg per actuation
FAQ
Is Spiriva Respimat a steroid?
This inhaler is a steroid-free medication. This bronchodilator works differently from inhaled corticosteroids.
What does Spiriva Respimat do for your lungs?
This inhaler is used to relax the muscles of the air passages that transport air to the lungs. This can improve breathing and reduce exacerbation of breathing conditions.
Is it better to take Spiriva in the morning or night?
You may administer this inhaler at any time of the day. You may choose the time that is most convenient for you. Make sure to take your Spiriva dose at the same time every day.
How much does a 30 day supply of Spiriva cost?
You may check the price of this inhaler above. Each Spiriva Respimat usually lasts for 30 days if two inhalations are administered once daily.
References:
https://www.accessdata.fda.gov/drugsatfda_docs/label/2015/207070s000lbl.pdf
https://www.webmd.com/drugs/2/drug-164818/spiriva-respimat-inhalation/details
https://www.rxlist.com/spiriva-respimat-drug.htm
https://www.spiriva.com/copd/using-spiriva/how-to-use-spiriva-respimat
https://dailymed.nlm.nih.gov/dailymed/drugInfo.cfm?setid=7b656b14-fcaa-2741-f6f0-e0be48971c02
| | |
| --- | --- |
| Brand Name: | Spiriva Respimat |
| Scientific Name: | Tiotropium Bromide |
| Other Names: | Spiriva Respimat |
| Strength(s): | 2.5mcg |
| Quantities Available: | 60puffs, 120puffs |
| Formulation: | Respimat Inhaler |
Popular Prescription Medications