MapleLeafMeds customer safety
We are commited to providing a safe and secure online shopping experience for all Maple Leaf Meds patients. To ensure the highest standards of practice are met, Maple Leaf Meds meets and exceeds the safety standards of the following pharmacy accreditation organizations:
Pharmacy Checker
Pharmacy Checker checks the credentials of Maple Leaf Meds to ensure that all important safety criteria is met. Safety criteria includes having a pharmacy license, requiring a prescription for all prescription medications, to not ship controlled medications, enforcing a strict privacy policy, ensuring all financial and personal information is secure, and providing contact information for patients.
CIPA
The Canadian International Pharmacy Association (CIPA) seal certifiies that Maple Leaf Meds is licensed, ethical, professional, carries out the highest standards of practice, and regulated by the government for safety to ensure its' patients are purchasing quality prescription drugs at affordable prices.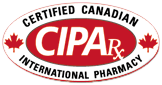 IPABC
The International Pharmacy Association of British Columbia (IPABC) ensures that Maple Leaf Meds is an ethical and professional practice that delivers high quality and affordable medications to patients around the world.
McAfee
McAfee is trusted by Maple Leaf Meds for their unmatched security expertise and have confidence in the comprehensive and proven solutions to effectively block attacks and prevent disruptions on our website.

GeoTrust
GeoTrust is trusted by Maple Leaf Meds to secure all Maple Leaf Meds online transactions. Our range of digital certificate and trust products enables Maple Leaf Meds to maximize the security of their digital transactions.
Join our mailing list!
Get the latest updates and news on prescription drugs.